Water Taxi and Tours
Bay Excursions provides birding and wildlife tours, plus water taxi service to the trail heads and cabins in Kachemak Bay State Park on the south side. Not bound by set schedules or specific routes, we can take you when and where you would like to go. Lifelong Alaskan Karl Stoltzfus, owner and operator of Bay Excursions, has lived and operated boats on the waters of Kachemak Bay for over 45 years.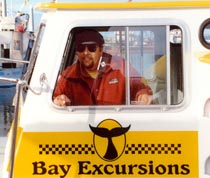 Join Karl on his boat the "Torega". He designed and built a new cabin on an existing hull and launched it on July 7, 2002. It is USCG certified for 15 passengers. The cabin seats 10 comfortably with outside seating for six.
In addition to offering water taxi and tours Bay Excursions also Has kayaks and a cabin available for rent. For more information click on the appropriate button.
Please check the Captain's Blog for recent bird and mammal sitings