Let us take you on an Alaskan adventure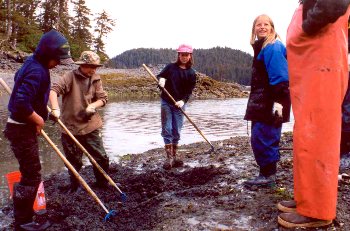 Instead of just telling you about what there is to do around Seldovia we take you out there and do it. We have the equipment and expertise to provide the best possible experience with an emphasis on education and bringing home a gourmet dinner.
Learn about the local edible and medicinal plants and the temperate rainforest in which we live. Watch bears, otters, whales, check out fossil beds and eagle nests, dig clams,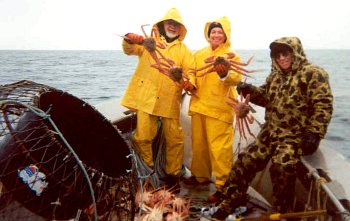 dive into tide pools and learn about inter-tidal ecology. We can focus on what you're interested in or put together activities based on what's most exciting on any given day.

Like clocks in cities, the tides and seasons play a big role in what we do in coastal Alaska. We will structure your activities around them to make the most of your opportunities and interests. If you have specific goals, let us know and we'll make it happen.
We have a 23-foot open skiff and a 30-foot charter boat to take you to where the action is. Both boats are fully equipped with safety and fishing gear: all you need to bring is boots and personal raingear.
Salmon Fishing for Kids: The pink salmon run heavy in Seldovia Bay and if you want kids to catch fish and have fun, this is the place to do it. There's no shoulder-to-shoulder combat fishing like you'll find in other places, and it won't cost you an arm and a leg. We'll take you to the hot spots. The pinks run from mid July through August. We've got the gear; you bring the kids.

For more information about our rates and how to book your Seldovia adventure, turn to our booking page. For more information about our accommodations, turn to the lodging page.