View Our Guestbook


Sign Our Guestbook

---
Contact us:
Splash Zone Adventures
PO Box 132
Seldovia, AK 99662

Phone:
(907) 234-7519

Email:
splashz@alaska.net
Welcome to Splash Zone Adventures


Splash Zone Adventures is the place to be in Seldovia, an historic Alaskan fishing village located in pristine and magnificent surroundings on the south side of Kachemak Bay. Splash Zone provides quality comfortable lodging and access to all activities area-wide.
We cater to active independent travelers and families who want a hands-on experience in the best of coastal Alaska. Whether you want to go fishing, crabbing, dig for clams, learn about inter-tidal ecology or just kick back and enjoy watching the wildlife and the slow pace of life in a remote village that's off the road system, Splash Zone can arrange a vacation to suit you.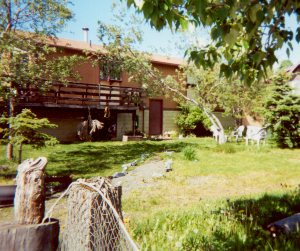 Splash Zone offers accommodations at 248 Lipke Lane, right off Main Street in the heart of town. You'll be right across the street from the boat harbor with great views of Seldovia Bay and the mountains beyond. Grocery stores, restaurants, shopping and the boat harbor are just an easy block's stroll from our central location. Beaches and trail walks of various degrees of challenge are within easy reach of the more adventurous walker. Check out all the possibilities on the maps of Seldovia—including our local walking tour map that features interpretive signs and local businesses and attractions.
For more about our accommodations, turn to the Lodgings page.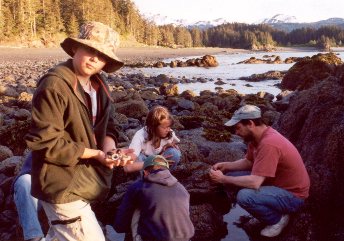 Adventurers of all ages will find excitement, challenge and wonder as we explore the rich maritime world of the Kachemak Bay Research Reserve.
For more about our adventures, continue on to the Adventures page.