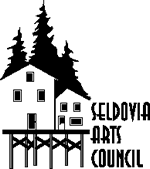 Year 1999 Arts Council Programs

December 12, 1999

December 12, 1999
Santa Claus
The Arts Council brought Santa to town to listen to the Chirstmas wish lists of all Seldovia's good little girls and boys. Digital photography allowed parents to preview shots and take them away as prints or computer files, or even receive them as emails to share with friends and family far away. Special thanks to Toby Seville for playing an important role and to Dan Hiatt for loan of printing equipment; sponsorship of Polaroid photo feature by Seldovia Village Tribe.

November 29, 1999

November 29, 1999
Renaissance Faire
The Arts Council, Susan B. English School, and local crafters put on a holiday Renaissance Faire with traditional dances and songs performed by the Sea Otter Dancers, period carols and music, food, traditional medieval games, an original drama based on the traditional medieval Russian folk tale "Baba Yaga," exhibits, and lots of fun.

November 2-12, 1999

November 2-12, 1999
Pam Pulver: Mime and Clown
The Seldovia Arts Council and Susan B. English School brought Pam to Seldovia for an Artist in the Schools Residency through a grant from the Alaska State Council on the Arts. She taught daily mime classes for a week and a half to all grades, held two days of community mime workshops, and helped students organize and perform a show demonstrating what they'd learned for the community. Sponsorship assistance from Susan B. English School , Splash Zone B & B, Sherri Burt, and the Mad Fish Restaurant.

September 1999
Seldovia Arts Council Webpage
The Arts Council webpages debut, with a calendar of events, council news and bylaws, and background information of upcoming features. Special thanks to xyz.net for donation of an account to the Arts Council.

Special Acknowledgment and THANKS to Seldovia Saltwater Studios - Savannah Lewis, for launching the site in 1999 and for maintaining in 1999, 2000 and early 2001.




September 25, 1999

September 25, 1999
Arctic Chamber Orchestra
The Arctic Chamber Orchestra, part of the Fairbanks Symphony, performed the entire Brandenberg Concerti by Bach. The orchestra appeared as part of their fall tour of the state. Sponsorship thanks to Fairbanks Symphony Orchestra, Rainbow Tours, Seldovia Rowing Club B & B, Mary and Mike Webber, and Swan House B & B.


September 25, 1999

September 25, 1999
Brian Bowers: Autoharp, storytelling and vocals

Storyteller and autoharpist Brian Bowers gave a special afternoon performance for students that held them enraptured with the tale of a very exciting bicycle ride. That evening, Brian and his wife performed a musical concert for the community on stringed instruments and voice. Sponsorship help from the Seldovia Village Tribe, Mad Fish Restraunt, The Buzz, and Seaport Cottages.

August 22, 1999

August 22, 1999
All-Seldovia Art Show
The Arts Council mounted a weekend exhibit of local art by adults and students. Local musician Peggy Huff brought the Brass Factor, a chamber music quintet from Homer to perform at the show. Special thanks to Seldovia Village Tribe, Sherri Burt, Mary Weber, and Susan B. English School.

August 14, 1999

August 14, 1999
Waterhaul with Dana Lyons: Community dance
Waterhaul, a rock/jazz/blues band from Homer, played with well known environmentalist singer/songwriter Dana Lyons, from Bellingham, Wash. This was a great hit with all the young folks in town. This event was jointly sponsored with Cook Inlet Keeper.

Picture by Shiela Pachulski

August 2, 1999

August 2, 1999
George Winston: Piano, slack key guitar
Pianist George Winston performed in a charity concert at the Seldovia Bible Chapel to benefit the Seldovia Food Bank. The concert was produced by the Arts Council with special assistance from Dancing Cat Productions; sponsorship assistance received from Seldovia Village Tribe, Seldovia Bible Chapel, Seldovia Chamber of Commerce, Mad Fish Restaurant, Seldovia Rowing Club B & B, Boardwalk Hotel, The Buzz, Rainbow Tours and Lynn Corwin. Thanks to George Winston for coming to Seldovia and helping us launch the Seldovia Arts Council's venue.

July 4, 1999

Chalk on the Block: A community interactive street muralAs a part of the famous Seldovia Fourth of July festivities, the Arts Council held a sidewalk art contest and fund-raiser in the driveway of the city manager's house on Main Street. Thanks to Seldovia Chamber of Commerce.

July 3, 1999

Too Fat to Fly: Community Dance
Popular Homer musicians Too Fat to Fly came to Seldovia for a community dance held in the Seldovia Village Tribe tent on the waterfront.

June 25, 1999

June 25, 1999
Evergreen Celtic Band: Lawn party & dancingThe Arts Council assisted the Kris Lethin family in a dance and lawn party to celebrate the marriage of Tim & Savannah Lethin. Council members and students performed celtic dances they learned this spring as an Arts Council project.

June 22, 1999

June 22, 1999
Paul Roseland: Solstice Concert Norwegian-Alaskan folksinger Paul Roseland, who also works a 159-acre farm near Portage, has been called a "living archive of Alaskan folk songs and music." Roseland played and sang in a solstice concert in the Seldovia Village Tribe tent. Event sponsorship thanks to the Olson family.

MMay 15, 1999

May 15, 1999
Radislav Lorkovic:
Piano and button accordian
Radislav Lorkovic played classical and jazz piano as well as fun cajun tunes on his button accordian at an evening concert at Susan B. English School. Rad had so much fun that he joined local musicians in a jam on the sunny deck of the Mad Fish Restaurant the next day. Sponsorship assistance from the Seldovia Village Tribe, Seldovia Rowing Club B & B, and Lynn Corwin.

May 15, 1999

May 15, 1999
Nancy Yaki and Matt Yaki: Watercolors and classical guitar
The Arts Council held an evening slide show and exhibit with dessert potluck featuring the works of Homer artist Nancy Yaki. The show was accompanied by a classical guitar performance by Matt Yaki. Thanks to Seldovia Village Tribe for sponsorship assistance.

April 17, 1999

April 17, 1999
Spur Highway Spankers: Bluegrass concert and dance
This popular Kenai bluegrass band helped us kick off a renewed Arts Council calendar with a community bluegrass dance. The Spankers also conducted a special workshop for kids on their instruments and taught them a couple dances to do to bluegrass music. Sponsorship assistance from the Seldovia Village Tribe, the Seldovia Boys and Girls Club, Susan B. English School, Seldovia Rowing Club B & B, Seaport Cottages and Lynn Corwin.