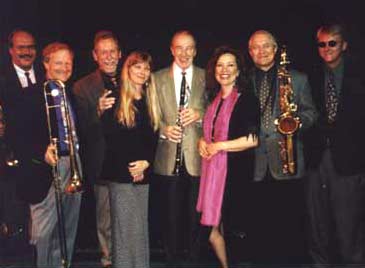 Swing Fever -San Francisco's
Hottest Jazz & Swing Band
Were in Seldovia on September 24, 2004
This was one of our best attended concerts to date and
everyone enjoyed the music and dancing!
Swing Fever features six veteran jazz musicians who have played with the likes of Ella Fitzgerald, Count Basie, Dave Brubeck, Benny Goodman, Nat King Cole and Clark Terry. Swing Fever's tour schedule has included the Monterey, Los Angeles, Classic, San Juan Island, Cotati, Sacramento and San Francisco Jazz festivals. These folks are the real deal!
They also feature an incredible lead singer in Louisiana-born Denise Perrier, a 20 year veteran of the San Francisco jazz scene. She has appeared on stage as the great Bessie Smith and sung tributes to Dinah Washington and Duke Ellington. Denise is a singer of the ages! Swing Fever has a 1000+ song repertoire, a sample of which you can find at www.swingfever.com or by calling your favorite djs at KDLL 91.9 (907.283.3355) and KWJG 91.5 (907.260.7702).
Sponsors:
Harper Touring Grant via
Alaska State Council on the Arts

Seldovia Arts Council