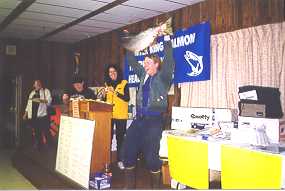 The Winner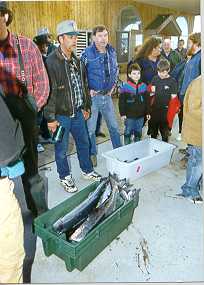 waiting on weight in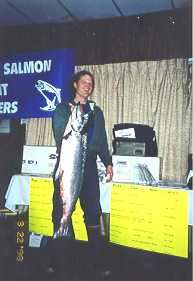 The Winner
..Karl Finkenbinder of Homer, Alaska took first place in the one-day Homer Winter King Salmon Tournament on Saturday, March 21. Finkenbinder won $11,308 and a gold medallion for his 36.535 lb feeder king salmon which he caught fishing aboard the Annalee II.
The 36.535 lb salmon is the largest on record for the 5-year running tournament, and is 1.245 pounds heavier than last years' winning fish. A total of 514 anglers paid the $100 entry fee to fish the tournament, making the cash giveaways for the top ten fish total $38,550 (75% of the total take - see list attached). 160 fish were landed during the 8hour tournament which started at 8am and ended at 4pm. 154 boats participated on the flat, calm sunny day in Kachemak Bay, hauling anglers from all over the state and country.
..32 prizes valued at $50 - $300 were given away every 15 minutes during fishing from randomly drawn names of all anglers, and 12 prizes valued at $300 - $500 were given away randomly at the awards banquet which followed at the Homer Elks. A skipper's prize was awarded to the skipper of the boat catching the winning fish, which was Finkenbinder himself, and a winner was drawn from all anglers fishing in the Open Boat category for a Mustang work suit. All banquet participants also had the opportunity to purchase raffle tickets for Roundtrip Tickets for 2 anywhere Alaska Airlines flies, donated by Alaska Airlines.
..88 salmon were weighed in, totaling 1,626 pounds. The average weight of the fish weighed in was 18.70 pounds. Tournament high liners for the day were the Florette C, Optimist, Anglers Anonymous, Boulder Bay, Bonny J & the Quiana.
..Fisherman came from the following areas to participate: Homer/Anchor Point/Fritz Creek - 175; Anchorage/Girdwood - 137; Kenai/Nikiski - 50; Soldotna/Kasilof - 53; Eagle River - 19; Ninilchik/Clam Gulch - 26; Palmer/ Wasilla - 17; Sterling/Cooper Landing - 6; Seward - 2; Fairbanks/Denali - 6; Seldovia - 11; Outside - 9 (Wash-3, Mich-2, Cal-2, Oregon-1, Conn-1)
..The 5th Annual Winter King Salmon Tournament was sponsored by the Homer Chamber of Commerce. Call 235-7740 for more information.
...An awards banquet followed the tournament at The Elks Lodge, where the prizes were officially awarded and winners announced.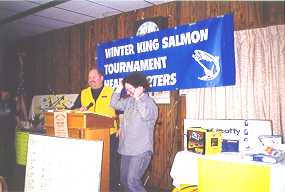 Happy prize winner!