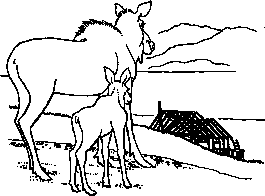 WE SHARE THE SAME HABITAT.
The people and moose ofAlaska have been neighbors for thousands of years, with both species sharing, and preferring, the same low-lying habitat adjacent to rivers and streams.
DEVELOPMENT HAS AFFECTED WILDLIFE POPULATI0NS.
Many acres of moose habitat are lost each year as roads and houses are built, land cleared, and parking lots paved.
PEOPLE WANT MOOSE
People do want moose. Moose are valued by hunters, wildlife watchers, and tourists. An Alaska Department of Fish and Game survey in Anchorage, and a public vote on a critical habitat area for moose within the city limits of Homer, have shown that people want and value moose in or near the areas where they live.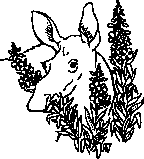 WE CAN HELP.
If we want to maintain moose numbers at their current levels in the MatanuskaValley, the Anchorage area, and on the Kenai Peninsula, while continuing to alter our landscape, we must carefully identify, protect, and selectively enhance existing moose habitat.