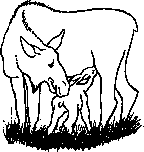 MOOSE ARE BIG
The Alaska moose (Alces alces gigas) is the largest member of the deer family in North America. Bulls shed their antlers, which may spread 60 inches or more, every winter. Mature bulls generally weigh between 800 and 1200 pounds. Cows are somewhat smaller, usually weighing between 500 and 900 pounds, and have no antlers.
MOOSE GlVE BIRTH EVERY YEAR.
Gestation is about eight months, with cows giving birth to one or two (occasionally three) calves every spring, usually in May or early June. Calves stay with their mothers for the first year of their lives. Calf mortality can be very high, with black and brown bears, wolves, and domestic dogs taking a toll. Almost half of the moose killed by motor vehicles are calves, hit as they follow their mothers across increasingly busy roads.
MOOSE DEPEND ON HEARlNG AND SMELL.
There is little doubt moose can hear and smell better than humans can. Moose depend more on these senses than vision to tell what is going on around them.
MOOSE ARE GOOD SWIMMERS.

Moose readily take to the water. Aquatic plants are a favorite food. Moose have been observed backing into lakes and rivers to escape predators.