FORAGES CONSUMED BY MOOSE 1N ALASKA

This list was produced by Lyle A. Renecker and Charles C. Schwartz and appears in the book Ecology ond Management ofthe North American Moose, compiled and edited by Albert W. Franzmann and Charles C. Schwartz. (Smithsonian lnstitution Press, 1998.) This is by far the most informative and comprehensive moose book in print. It has useful information for everyone.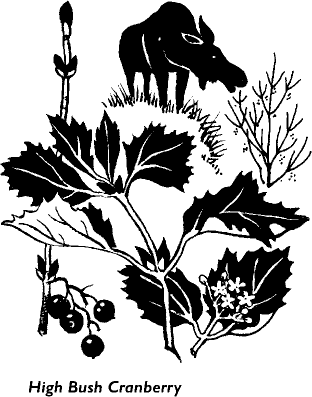 Common name
Scientific name
Trees and shrubs
Red elderberry
Sambusca racemosa
Moose wood
Viburnum edule
High bush cranberry
Viburnum pauciflorum
Alder
Alnus spp.
Sitka alder
Alnus crispa
Birch
Betula sp.
Kenai birch
Betula kenaica
Bog birch
Betula glandulosa
Dwarf arctic birch
Betula nana
Paper birch
Betula papyrifera
Labrador-tea
Ledum sp.
Lowbush cranberry
Vaccinium vitis-idaea
Serviceberry
Amelonchier sp.
Saskatoon serviceberry
Amelanchier alnifolia
Rose
Rosa sp.
Prickly rose
Rosa acicularis
Red raspberry
Rosa idaeus
Greene mountain-ash
Sorbus scopulina
Quaking aspen
Populus tremuloides
Cottonwood
Populus balsamifera
Willow
Salix sp.
Greyleaf willow
Salix glauca
Richardson willow
Salix lanata
Halherds willow
Salix hastata
Beaked willow
Salix depressa
Scouler willow
Salix scouleriana
Littletree willow
Salix arbusculoides
Barclay willow
Salix barclayi
Sandbar willow
Salix interior
Feltleaf willow
Salix alaxensis
Planeleaf willow
Salix pulchra
Barren-ground willow
Salix niphoclada
Tall blueberry willow
Salix novae-angliae
Currant
Ribes sp.
American red currant
Ribes triste
American black currant
Ribes americanum