*Please click on buttons above to look at artwork.
SHIPPING and HANDLING VAIRIES ON ALL ITEMS
All not in stock orders require a minimum 50% non-refundable down payment.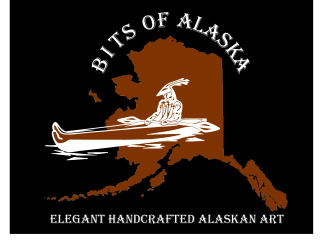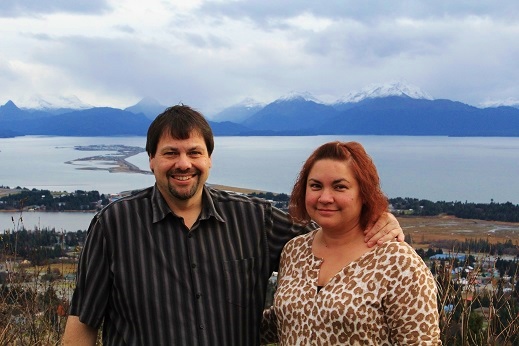 Alaska State Council on the Arts Silver Hand Artists Peter Lind Jr. & Susan Lind
We are a small family owned and operated business who has done artwork over 20 years. We were both born and raised in Alaska. Peter Lind Jr. is of Aleut/Alutiiq decent, born in Dillingham. Susan Lind is of Alutiiq decent, born in Kodiak.

Each piece of ivory jewelry is cut by Peter and beaded by Susan, to create the beautiful pieces of elegance that are presented to you. All carvings are also created by Peter.

Places Artwork on Display:

Bristol Bay Native Corp., Old Harbor Corp., and several other native corporations. The Valdez Ferry terminal has a "Spirit Hunter" that was purchased by The State of Alaska for display. The Valdez Museum has purchased a Bentwood Visor. Homewood Suites in Anchorage has Shadow boxes on display. There are also other museums and private collectors that have purchase pieces. For the summer of 2012 one of the dolls were on display at the Tacoma Museum for three months for the "In the Spirit" exhibit. During the 2012 Alaska Federation of Native convention an Alutiiq Hunter in Bidarka was presented to the Governor of Alaska Sean Parnell.



OUR ITEMS

We use a variety of stones in our jewelry, such as garnet, mother of pearl, adventurine, malachite, jade, freshwater pearls, hemetite, obsidian, coral, austrian crystal, lapis, rose quartz, agate, amethyst, jasper and tigers eye. We also use gold and other exotic beads.

Let us know if there is a special stone you would like and we do orders.

All carvings are done with a variety of woods and natural materials.

This is just a small collection of our items, please check again for updates. If you have any questions or would like to make a special order just click the address below.

Please feel free to browse through our site.

Now Enjoy!
---
BIO
Peter Andrew Lind
PO Box 3473
Homer Alaska 99603

Peter A. Lind Jr., was born in Dillingham in 1964 and raised in the Bristol Bay
area. He comes from a long standing fishing family. His father with a drift permit
for the Bristol Bay and sisters with set net sites. He started doing art work in the
late 80's, when fishing was bad. The year that Bristol Bay went on strike, he had to
find alternate means of funds. Peter had grown up in a small village and would
spend his time building models and working with his hands. As he got older he
would watch his father carved beautiful pieces of artwork and he knew he could
use his model building talent to carve. He wanted to work with traditional items
in a more modern way. He started with small items such as pins and earrings with
bead work around them that his wife Susan did, then slowly worked his way up to
the beautiful art work that he has now. Peter now makes a large variety of items
such as, shadow boxes with miniature replicas of Aleut Hunting gear; he has sets of
these in hotel lobbies and offices around the state. He also makes bentwood visor
from steamed Sitka Spruce, and Atlatls (throwing darts) made in the traditional
ways.
He started with simple bazaars and native craft shows. Once he was a little more
known, he then started donating to charities and auctions. In 1991 he did his first
donation with the Alaska Native Heritage Park Art Auction. In 1996 he started
selling in the Aurora catalog, an Alaskan catalog. In the May/June 2001 issue of
Alaska magazine Peter was interviewed by Dana Stabenow. He does a variety of
native art shows throughout the year such as AFN and Fur Rondy. During the 2000
Fur Rondy Peter was interviewed for Heartbeat Alaska. His website, Bits of
Alaska, was the feature in a First Alaskans magazine in 2001. During the 2003 Fur
Rondy, Peter's Alutiiq Hunter carving took both division and first place in the
juried competition. Starting in 2004 he started doing presentations in local schools
to give the children a look at how native hunters lived and hunted. In 2005 he was
one of the artist featured in a first Friday Gallery opening for the Alaska Native
Heritage Center. In 2007 he was awarded a grant from the Alaska Native Arts
Foundation. Starting in June 2012 he has an Alutiiq doll juried into the Tacoma
museum exhibition "Into the Spirit". He is an Alaska Native Silverhand Artist and
has been a member of IACA since 2007. He hopes to use his artwork to educate
and preserve native culture for the younger generations.

RSEUME
Peter Andrew Lind
4712 Tamara St
PO Box 3473
Homer Alaska 99603
907-244-9914
peterlindjr@bitsofalaska.com
Website www.bitsofalaska.com
Employment
Owner – Bits of Alaska
Started business in 1989
Silver Hand Artist
Interviews and Articles
October 2013
Interviewed in Fairbanks for the Nome radio station KNOM 96.1
October 2013
Made a presentation on the "Traditional Native Family Values Today" at the Alaska Federation of Native Conference main stage in Fairbanks.
May 2013
61 North
He and his family were interviewed by Anne Herman for the "Feel the Heartbeat" for the Alaska Native Heritage Center.
March 28th 2013
Featured in an interview with Marti Glaser on KTUU morning addition.
June 26th 2009
He and his family were featured in an article "3 Generations of Artist connect Stone Age to Internet Age" by Mike Dunham for the Anchorage Daily News.
2001
The Bits of Alaska website was featured in a First Alaskans Magazine
May/June 2001
Interviewed by Dana Stabenow for Alaska Magazine.
2000
During Fur Rondy was interviewed for Heartbeat Alaska.
Grants
2007
Award $2500 grant from the Alaska Native Arts Foundation.
Exhibits
October 2013
A Water Pump went to the Alutiiq Museum in Kodiak
October 2013
A Water Pump, Toggle Harpoon, and Atlatl went to the Seldovia Museum
December 2012
Aleut Bentwood Visor went on exhibit at the Valdez Museum
June 2012
An Alutiiq Doll juried into the Tacoma museum exhibition "Into the Spirit"
2005
One of the artist featured in a First Friday Gallery opening for the Alaska Native Heritage Center.
Awards
2003
Aleut/Alutiiq Hunter took both division and first place in the juried competitions
Art on Display Public Offices
Bristol Bay Native Corporation, Anchorage Alaska
Homewood Suites, Anchorage Alaska
Valdez Ferry Terminal, Valdez Alaska
Inuit Native Corporation, Anchorage Alaska
Seldovia Wellness Clinic, Homer Alaska
Old Harbor Native Corporation, Anchorage Alaska
Misc
2004
Started donating time in local school for demonstrations.
1996
Sold items in the Aurora Catalog, an Alaskan catalog.
Bits of Alaska
Elegant Handcrafted Alaskan
Jewelry and Artwork
By
Peter A. Lind, Jr. and
Susan L. Lind
Homer Alaska 99603
907.244.9914
slind@xyz.net
www.xyz.net/~slind/

Web Site Designed by Optic Immersion