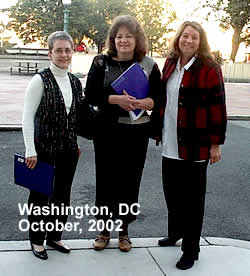 (Left to Right) Renda Horn, Sue Ingels, and Susan Mumma
NEWS RELEASE
Susan Mumma, of the Seldovia Arts Council; Renda Horn, from the Bunnell Street Gallery in Homer;and Sue Ingels, 6th Grade teacher at Paul Banks Elementary School in Homer acted as delegates to the first meeting of the newly formed Institute for Education and the Arts in Washington D.C., October, 16-20, 2002. The Homer/Seldovia area was chosen for its involvement in the arts and the delegates were chosen as leaders in arts advocacy for the area by organizers Ron Stowe and Donna Powers.
The meeting was the first of a multilevel plan that was co-sponsored by the Smithsonian, the Library of Congress, and Interlochen Center for the Arts. The proposed plan will provide for a National Music Center and Museum in conjunction with the Smithsonian and will be located in Washington DC It will include a clearinghouse for research on implementing arts into the classroom, and a teacher training facility. The Library of Congress, the Smithsonian, Carnegie Hall, and other institutions housing our nation's treasures are to work together toward bringing those treasures to local communities in the United States in general.
The emphasis of the first meeting was to consider "Big Issue Questions" that will influence the implementation of the plan; issues such as whether or not national treasures can realistically make their way into ALL classrooms. As an example of teaching strategies, the group was hosted at the Library of Congress Whittall Pavilion for presentations by Jon Newson, Chief of the Music Division, Vicky Risner, Dance, Susan Claremont Music Reference Specialist and Ken Slowik, Division of Cultural History at the Smithsonian. This group presented authentic musical instruments and documents such as a Stratavarious violin collection, a 16th Century Choir book, original lute tablature, musical manuscripts by Mozart, Beethoven, and Bach, and film archives interviewing contemporaries of Martha Graham. These presentations offered an example of "Global Experience," as preparation for students in examining such treasures.
The Homer/Seldovia based team will be working to make arts a basic part of the daily lives of children in area schools through integration into the basic curriculum.