This webpage is written to display fully with current versions of the major browsers. If you do not have a current browser, the information content of the page should still be available to you even if all of the intended style elements are not displayed. You may need to upgrade your browser in order to view it at its best. If you seem to be missing content or are having trouble accessing this site, contact the webmaster for assistance. If you have a current browser but styles do not seem to display properly, check to be sure that cascading style sheets are enabled in your browser preferences.The Herald regrets that the current state of browser development precludes creating one site that looks good in all available versions.--ed.

Weekly Hometown News for the Greater Seldovia Area
---
November 29, 2001 -- Vol. 3, No. 48
ISSN: 1534-6544
Seldovia, Alaska
---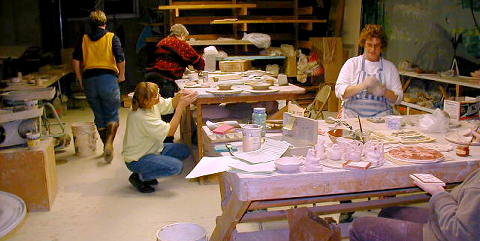 Seldovian crafters have a new outlet for their efforts and talents with the recent formation of the Seldovia Potters' Guild. The group, which is open to anyone who is interested in potting regardless of their experience level, was described by member Dede Higman as a "skill-sharing situation."
While the group has no formal instructor or program, members are willing to share their expertise and the training some of them received from instructor and ceramic artist Liz Olivella last summer. They meet in the Boys and Girls Club pottery studio upstairs in the school shop, although the guild is not otherwise sponsored by the club. They have the use of the kiln, three wheels, glazes, and a variety of tools in return for a monthly $15 per member fee. Club members are also responsible for purchasing their own clay at $10 a block.
The guild meets in the studio every Tuesday and Thursday evening from 7-9 pm, and anyone considering participating is welcome to visit the group at no charge. "It's an enthusiastic group; it's fun," Higman said in describing the newest addition to the Seldovia crafts scene. More photos of the studio and the work the guild is doing are on page 2.

---
| | |
| --- | --- |
| Inside: | |
---
Well-reasoned opinions, off-the-cuff comments, news tips, announcements, corrections or clarifications, advertisements, recipes, poetry, advice and--especially--compliments will be received with gratitude and occasionally published by the Editor. Please contact us for advertising rates.

Seldovia's first and only newspaper, the Seldovia Herald, was founded in 1930 by Lester Busey and remained in print till 1933. Permission to use the name was kindly granted by his son, Jim Busey.




---
Copyright © 2000, 2001 Savannah Stinnett Lewis. This newspaper or any part of this newspaper may not be sold, copied, distributed, printed except for private use, or quoted from without prior permission. This page last updated: November 29, 2001. The url of this page is http://www.alaska.net/~s2lewis/sovnews.html