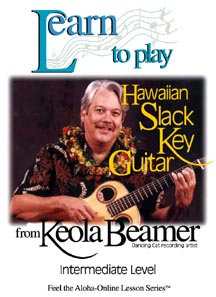 Keola Beamer is a master of Hawaiian artistic expression. The fascinating history of his family can be traced back to the 15th century, to such distinguished küpuna (ancestors) as Ahiakumai Kiçekiçe, queen of the island of Hawaii, one of the kapu (sacred) twins born of Kameiamoku, favored wife of Kamehameha Nui. In traditional Hawaiian society, aliçi (royalty) recognized that sounded words possess mana (spiritual power). They encouraged musical expression as a way to preserve information and communicate with one another and the gods.
Throughout the generations, the Beamers have been involved in the performing arts. In the 20th century, they have produced a number of influential performers, composers and teachers. Keola's great grandmother, Helen Kapuailohia Desha Beamer, was one of Hawaiçi's most prolific and accomplished composers. She was also a skilled dancer whose grace left a lasting imprint on the hula (Hawaiian dance). Her granddaughter, Winona (Nona) Kapuailohia Beamer, is Keola's mother. A noted chanter, composer and singer, Nona is revered for her scholarship and accomplishments in the education of Native Hawaiian children.

Keolamaikalani Breckenridge Desha Beamer carries the legacy into the 21st century. "My family is serious about music." Keola says. "We came from a history of oral tradition in which music was a central component. Our genealogies, land boundaries, and navigational information were all in chant form. We are just beginning to realize the wealth of that knowledge and how so much of it has been lost. We are finally making some serious footholds in regaining some of these meanings and incorporating them in our own lives."

Keola has played guitar, piano and the bamboo nose flute since he was very young. He studied hula and while attending Kamehameha School for children of Hawaiian ancestry in Honolulu.. Keola was an active teacher of slack key guitar in the 1970's and compiled the first comprehensive teaching manual on the subject, Hawaiian Slack Key Guitar. His contributions to slack key during the 1970's began to spark public interest in slack key guitar, launching a statewide revival of the tradition. His teaching continues today with an instructional video and two instruction books. In 1998, he was the recipient of the Slack Key Guitar Award for his contributions to this art form. In 2000, Keola began offering the first available on-line instruction of slack key. Keola is especially noted for his ability to recontexturalize ancient Hawaiian mele (songs) into contemporary settings in which he has created a style uniquely his own.

Keola's musical history has been a series of groundbreaking events, beginning in 1972 with the solo slack key album Hawaiian Slack Key Guitar In The Real Old Style. That LP that was the catalyst for the revival of slack key guitar. His 1978 release, Honolulu City Lights is the largest selling recording in the history of Hawaii. Wooden Boat, Keola'ss first release on Dancing Cat Records, became the first Hawaiian music LP ever to reach the top 15 on the Billboard World Music Charts. During the Wooden Boat Tour, Keola participated in the first Hawaiian music concert on the internet. All three subsequent releases, Tales From The Dream Guitar , Mauna Kea - White Mountain Journal and Kolonahe - From the Gentle Wind also reached the Billboard World Music Top 15. Mauna Kea also won a 1998 Hanohano Award for Best Instrumental Release.
During his performances, Keola presents the magical "other worldliness" of the dream guitar style he has mastered. His unique and polished musicianship skillfully accentuating the stories that his songs tell about the culture. Each performance is a three dimensional experience, combining the elements of Mele (song), Hula (dance), and Oli (chant) with native instruments and Hawaiian folklore.
Keola's newest recording, Soliloquy, released in January, 2002 on Dancing Cat Records, is getting rave reviews and serious airplay nationwide. Soliloquy presents Keola in a unique environment, alone with his guitar. There is a magical synergy that is present. On Soliloquy, Keola sets aside the native percussion and nose flute to just have a moment with his guitars. Soliloquy debuted at #15 on the Billboard World Music charts, peaking at #11.
Keola continues to expand on the Slack Key tradition as well. A guitar concerto, written for his style, is in the works, as are plans for several crosscultural collaborations to follow the recent landmark meeting with Taiko artist, Kenny Endo. The pair were commissioned by Stanford's Lively Arts Series to perform two concerts; at Stanford University and Japan American Cultural Center Theater in Los Angeles. He is currently working on a theatre musical and a documentary soundtrack and in March he will begin work on the soundtrack for a major motion picture.
In March of 2001, Maui based filmmaker, Ken Burgmaier, filmed Keola in concert at the Maui Arts and Cultural Center. What began as as footage for Burgmaier's Jazz Alley TV series on the BET network, blossomed into a full feature documentary about Keola, with testimonials from his island peers, Led Ka'apana, Cindy Combs and Cyril Pahinui, along with commentary from such diverse luminaries as George Winston and fellow Mauian, Willie Nelson. The film, entitled Keola Beamer: Slack Key Guitar- Loosen the key, made its debut in Honolulu last September. It is scheduled to screen at major film festivals in New York, Denver and Los Angeles in 2002.