St. John's Inn Band



An Experience In Great Music...
"St. John's Inn" is a ubiquitous group of guys who have individually been regular performers on the Alaska and Anchorage music scene for some time but have only recently begun to merge into a cohesive unit of their own. The group, St. John's Inn, was named after location of Dan's father's final booking just before he passed on. HOME | (Group picture below)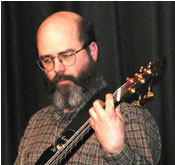 Dirk Westphal, on bass, is one of the most versatile players in the Anchorage area. Dirk spent 20 years with the Air Force Band playing every conceivable style of music. He has played with many notable groups including Manhattan Transfer.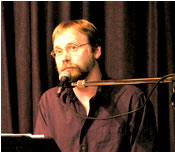 Dan McElrath, on keyboards, is another versatile performer. He is a graduate of the Furman University School of Music. He has taught hi-school band and chorus as well as private piano. He has recorded and produced 4 albums over the past few years as well as done advertising jingles and been musical director of several local musical productions
including "Fame" and "A Chorus Line". Although involved in many musical styles Dan has his roots in jazz as his dad was a jazz pianist in several bands through the 50's and 60's.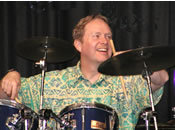 John Damberg, on drums, is one of the finest jazz drummers in Alaska. A native of Detroit, he has played with some of the finest jazz musicians in the country. John is an excellent percussionist and teaches a UAA Jazz and Percussion ensemble. If anything serious is happening in jazz around the Anchorage area John is there. John most recently recorded a CD of original latin jazz tunes entitled "Angie's Samba".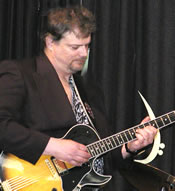 Andy Mullen, on guitar, is another fixture on the Anchorage music scene. Andy teaches guitar and has played most jazz venues with just about every notable artist in the Anchorage area. Andy not only plays guitar but is an excellent vocalist as well.