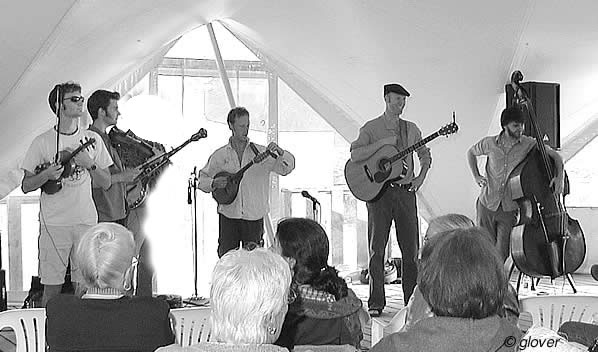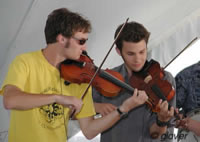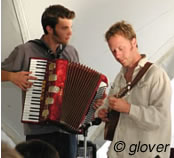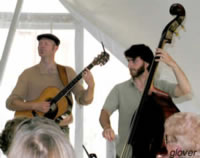 From BC's beautiful coast comes The Bill Hilly Band of six exceptional musicians, all sharing a common purpose to play timeless acoustic music with a passionate flare that captivates audiences of all ages. From a mélange of European stylings to the rhythms of Latin America, the Bills(who all have conveniently named themselves Bill) have forged a sophisticated , down-home music all their own that's being celebrated in kitchens, dance halls, festivals and theatres across North America and beyond. The Bills blend choreographed on –stage antics and infectiously danceable music. Whether its' blistering Brazilian mandolin melodies and the hilarious use of random objects ( a mandolin solo with a candelabra?) breathtaking, virtuosic two-fiddle fights, outrageously exotic bowed banjo solos, or soulful vocal renderings of the world's most hummable melodies. The Bills are a musical and visual joy to behold.
The Bill's, Bill Mandolin, Marc Atkinson, Bill Guitar, Chris Frye, Bill Fiddle III, Adrian Dolan, Bill Bow, Beau Klaibert, Reverend Bill Bass, Glen Manders, and visitor Craig Korth who was then nicknamed Bill Banjo. They gave on one of the finest musical events yet presented in Seldovia.
The Bill Hilly Band was presented by the Seldovia Arts Council at the STV tent on Wednesday July, 17, at 8PM in the evening. Many local businesses acted as ticket agents and Splash Zone B and B hosted the group. This event was partly sponsored by a project grant from the Alaska State Council on the Arts.