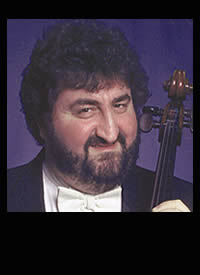 Armen Ksajikian, Cello
Widely hailed as one of the greatest cellists in north-central Eagle Rock, California, Armen Ksajikian began his professional career at age 12 with the Abkhazian State Philharmonic in his native (former) Soviet Union. Since arriving in the United States in 1976, he has been very active in the musical life of Los Angeles, having appeared as soloist and/or principal cellist with the Los Angeles Chamber Orchestra, Opus Chamber Orchestra, the Pasadena, Pacific, Long Beach, Glendale, New West and Santa Monica Symphonies and the Hollywood Bowl Orchestra as well as with the Bolshoi, Kirov, Stuttgart, Joffrey, Royal and American Ballet Theatre Orchestras. He toured with the Los Angeles Philharmonic to New York and throughout Europe and with the Hollywood Bowl Orchestra to Japan and Brazil. Ksajikian has participated in many music festivals including the Cabrillo, Colorado, Banff, Sitka, Venice Film, Fairbanks Summer Arts, Oregon Bach and Juneau Jazz and Classics.

As a member of the distinguished Armadillo String Quartet since 1982, Ksajikian has been involved in such daring events as a 34 ½ - hour marathon performance of the complete quartets of Joseph Haydn, as well as concerts from the top of the Mendenhall Glacier to the bottom of the Grand Canyon and from Hong Kong's City Hall to New York's Carnegie Hall, where the Armadillo Quartet gave the world of P.D.Q. Bach's String Quartet "The Moose".

Since 2002 Armen's new repertoire of "Dance Music From Around the World" has received critical acclaim at such venues as the Jasper Festival of Music and Wine in Canada, the Ninth International Cello Encounter in Rio de Janeiro, Albert College's Centennial Celebrations in Edmonton and throughout Alaska. For Armen as a quartet player 2004 has been an awarding year: the California String Quartet, of which he is a member, was nominated for "Most Outstanding Classical Music Group" by the L.A. Weekly and less than a month later the Armadillo String Quartet was picked as "Best String Quartet 2004" by Los Angeles Magazine. In addition to many of Peter Schickele's compositions, Ksajikian has premiered works by John Cage, Miklos Rosza, John Williams, Mel Powell, Henry Mancini, Randy Newman, John Adams, Chick Corea and many others. In 1985 Ksajikian was invited to perform with Jascha Heifetz in his master classes. In 1993 Ksajikian made his film limousine-driving debut in the action thriller True Lies starring Jamie Lee Curtis and Arnold Schwarzenegger. Armen occasionally plays the role of Baroque cellist with several early music ensembles in the Los Angeles area. He can also be found in numerous Hollywood recording orchestras, with over 900 motion picture soundtracks to his credit. Armen's hobbies include white water rafting, poker, backgammon and playing concertos with the Southland's symphony orchestras.