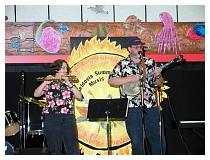 AliceEarlMullins.JPG
Alice and Earl Mullins were one of the first acts and played their jazzy style. It was their 4th time to the annual Seldovia Music Festival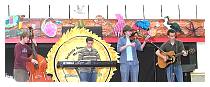 Emeralds.jpg
Eric Rodgers, Tyler Tornfelt, Ethan Barske and Matt Smith were amazing young men with their talents! You should have heard them and if you did,
I need not say more!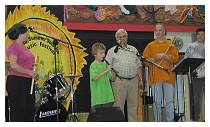 FluteCircle.jpg
This amazing group had pure sound that took one's imagination back into peaceful early times.
'The Seldovia Arts Council presented…"Seldovia summer … great fishing, hiking, boating… and a whole lot of great music! Seldovia Arts Council's biggest event of the summer, The Seldovia Summer Solstice Music Festival, has built a reputation over its five year history as the place to see exceptional musicians in an intimate venue, and this year's festival was no exception. Headline artists were Ann Rabson, Geoff Muldaur, and James Lee Stanley.
Ann Rabson is not only a world-class barrelhouse piano player and a respected Piedmont-style finger-picking guitarist, but a uniquely passionate and witty singer/songwriter with an immediately recognizable contralto voice. Her talent has earned her eight prestigious W.C. Handy Award nominations. "Rabson plays bluesy, honky-tonk piano with staggering authority." (Down Beat Magazine). Geoff Muldaur has his musical roots in the 1960's folk and blues scenes centered in Cambridge, MA and Woodstock, NY. Geoff has made recording appearances with such luminaries as Jerry Garcia, Bob Dylan, and Bonnie Raitt, plus two albums with then-wife Maria Muldaur and is indeed, 'one of the living masters of American home-grown music' (Peter Coyote). Folk vocalist and composer James Lee Stanley has recorded 20 albums and toured extensively, often with ex-Monkee Peter Tork with whom he recorded Two Man Band in 1995. Known for the power and passion of his finely crafted melodies, James Lee intersperses his performances with his trademark witty repartee.
Keyboard and accordion artist Radoslov Lorkovic has five critically acclaimed solo recordings, and numerous appearances and recordings with artists including Greg Brown, Andy White and Bo Ramsey. Rad returns from Festival 2004, as does outstanding Alaskan folk and blues fingerstyle guitarist Rick Brooks. Rick has shared the billing with such greats as Otis Rush, Bo Diddley, and Taj Mahal. Mike Campbell and Robin Hopper also returned to the Festiva. Mike sang original and often humorous Alaskan ballads in his amazingly deep baritone. Robin sang her award winning original tunes along with her daughter, Katie Hopper. New to the festival this year were The Emeralds, four young Alaskan musicians playing fiddle, bass, mandolin, guitar and piano. JuJuba, a 7 piece marimba band playing exhilarating, positive-energy music from Zimbabwe and southern Africa, joins us from Homer. Add The Alaskan Native Flute Circle, Earl and Alice Mullins, The Long and Short of It, Paul Boyd, Holly Wiley, and Seldovia's own The Wild Card, and we had an amazing festival! by Susan Zerwick


SPONSORS 2005
MegaStar$500
Alaska State Council on the Arts
Jerry & Suzie Stranik; Seldovia Dental Clinic Seldovia Rowing Club Bed and Breakfast
Lowell and Marcella Suydam
Mike & Mary Webber
Superstar$150
Across the Bay Tent and Breakfast Adventure Co.
Alaska Treetops Fishing Lodge
Beachcomber Realty
The Boardwalk Hotel
Jenny Chissus--RE/MAX of Homer
Cook Inlet Keeper
Dillon & Dillon - Timber & Log Wrights
Dimond Center Hotel
Gerry's Place B & B
Tom & Mary Glover
Great Northern Airlines
Herring Bay Mercantile
Hopkins Brothers Construction
Steve & Savannah Lewis
Jeff Madsen
Mark & Michelle Massion
Earl & Alice Mullins
Herman Mumma
Mark & Felicia Rowland
Phil Pachulski
Jo Rogers
Seldovia Bayview Suites
Seldovia Boys Basketball
Seldovia Fuel and Lube
Seldovia Herald
Seldovia Native Association
Swan House South B&B
Tide Pool Restaurant
Star$50
Bear Paw B & B
Fritz & Jacqueline Graese
Seldovia Medical Clinic
Sweet & Clean Laundry, B & B & Ice Cream Shop