Sea Bear Charters
WELCOME TO HOMER, ALASKA
"HALIBUT CAPITAL OF THE WORLD!"
---
NOW BEING OFFERED!

"BEAR VIEWING BY BOAT"

RATES AND RESERVATION INFORMATION
"Sea Bear Charters" is dedicated to providing you with a world-class charter experience. You will be fishing one of Alaska's premiere saltwater fisheries teeming with trophy-size halibut and salmon! And now, bear viewing by boat. All charters depart from the Homer Small Boat Harbor.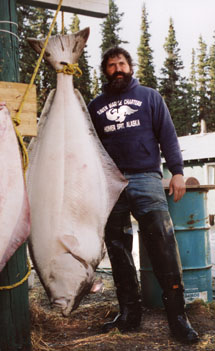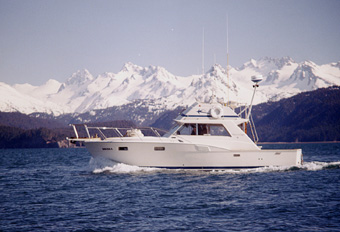 OUR BOAT AND CAPTAIN

Come aboard our comfortable, fully equipped 36 ft. Chris Craft Sportfisher F/V "Briska". Our safe, modern twin-diesel vessel will speed you to where the fishing is hottest! Your captain John Phillips, a Coast Guard-licensed operator with over 26 years fishing experience and over nine years' guiding around Cook Inlet and the Kenai Peninsula, will brief you on the vessel's safety features prior to departure. Once out at the fishing grounds, he will give you friendly instruction (and trade secrets) on fishing techniques. Wildlife abounds and throughout the day on the water one might see humpback or minke whales, orcas, seals, dolphins, sea otters, and various marine waterfowl.

MORE F/V "BRISKA" PICTURES!
---
Our world-famous halibut grow to mammoth proportions exceeding 300 lbs., with the average running 20-50 lbs. There are five species of salmon available throughout the summer with the "king" salmon in the lead, ranging 15-90 lbs.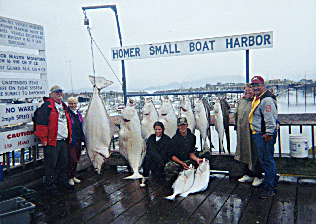 WOW! This rookies previous best was an 18 inch walleye. Here she is with her 142 lb. halibut.
---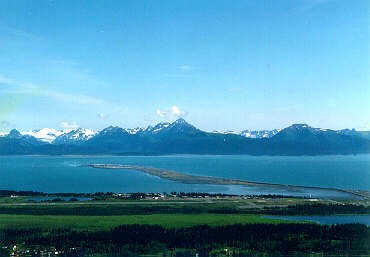 OUR HOME
Homer, the "End of the Road" is situated on the southern end of Alaska's spectacular Kenai Peninsula, where the waters of Kachemak Bay, Cook Inlet and the Gulf of Alaska converge to produce one of the world's most productive marine environments. Located 225 road miles or 105 air miles southwest of Anchorage (a 4.5 hour scenic drive or 40 minute flight), Homer is easily accessible to those looking for a true "Alaskan" adventure. Coupling unsurpassed natural beauty, glaciers, rugged mountains, volcanoes, and sparkling seas with our bounty of the deep makes for an experience you will never forget!
---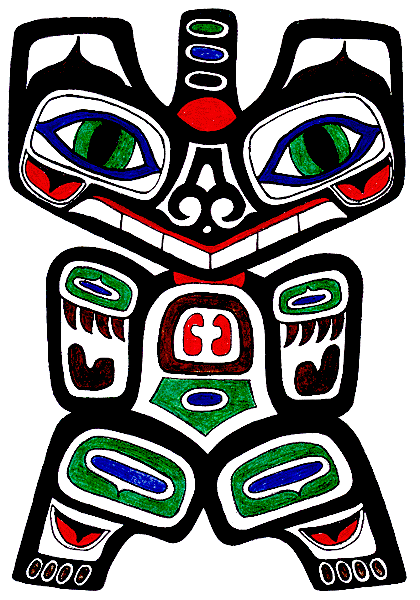 In totemic art the "sea bear"
symbolizes the fur seal, a highly
successful fisher.
We wish to emulate in kindred
spirit the fishing success of
the sea bear.

RATES AND RESERVATION INFORMATION
---
Page designed by Linda Phillips Updated 10/2000