This is Homer
---
Sunsetting over Kachemak Bay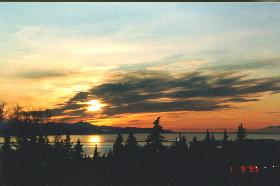 Flying in to Homer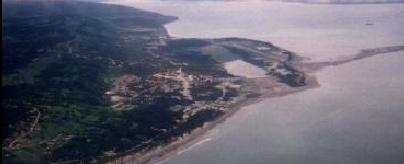 ---
Flying over the Homer Spit 4.5 miles of natural beauty. Also called the "End of the Road" as the Alaska Highway #1 ends at the tip!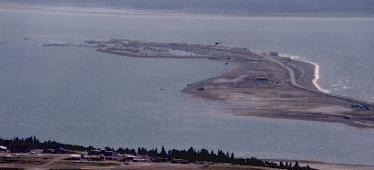 ---
Community of Homer
---
Community Profile
Community Type: 1st Class City


Current Population: 4,133


Borough Name: Kenai Peninsula Borough


Regional Native Corporation: Cook Inlet Region, Inc.


REAA/School District: Kenai Peninsula Schools


Latitude: 59ø 38' N


Longitude: 151ø 33' W


Land Area: 10 sq. mi.


Water Area: 15 sq. mi.

Location

Homer is located on the north shore of Kachemak Bay on the Kenai Peninsula. It is 227 road miles south of Anchorage, at the southern-most point of the Sterling Highway.

History

The Peninsula is historically in Kenaitze Indian territory. Homer was established in 1895, and was named for Homer Pennock, a prospector who worked in the Cook Inlet area. A post office was established in 1896. Homer developed steadily due to the rich resources of the area.

Culture

Homer is a non-Native community. Although commercial and sport fishing are the center of the economic activity, Homer has a large community of artists. The Homer Jackpot Halibut Derby runs from May 1 through Labor Day each year.

Economy

Homer is primarily a fishing, fish processing and trade center, and enjoys a considerable seasonal tourist industry. During summer months, the population swells with students and others seeking cannery or fishery employment. 546 residents hold commercial fishing permits. A sawmill processes borough timber, and Circle De Pacific Corp. is exporting wood chips from Homer to Japan. Plans for a multi-million dollar U.S. Fish & Wildlife Visitors Center for the Alaska Maritime National Wildlife Refuge are underway.

Transportation

Homer is accessible by the Sterling Highway to Anchorage, Fairbanks, Canada and the lower 48 states. The State owns and operates the Homer Airport, and a seaplane base at Beluga Lake. It is served by several scheduled and chartered aircraft and helicopter services. There are four additional private landing strips in the vicinity. The harbor/dock, Alaska Marine Highway and local ferry services provide water access.

Climate

During the winter, temperatures range from 14 to 27; summer temperatures vary from 45 to 60. Average annual precipitation is 24 inches.