Halibut &amp Salmon Fishing with
Bob's Trophy Charters
In Homer, Alaska

---
Hi! Enjoy your cyber-tour of Bob's Trophy Charters in Homer, Alaska, perhaps the most beautiful spot in our grandest, most scenic state. Detailed information is provided here to help you with your plans, and we have a nationwide toll-free number for you: 1-800-770-6400. At Bob's we offer hunting, fishing and accommodations. Our office, on the Homer Spit, is the first charter office on the left, before the harbor, and it has a 30 ft. halibut painted on it. You can't miss us.
---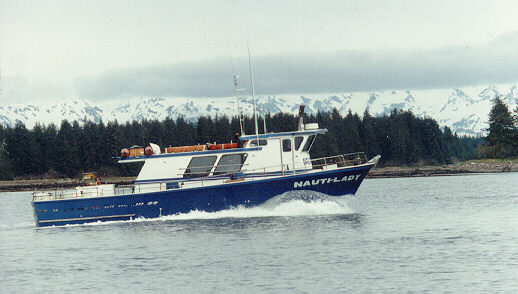 .......Welcome aboard the 50 ft. "Nauti Lady"
---
FISHING -- HALIBUT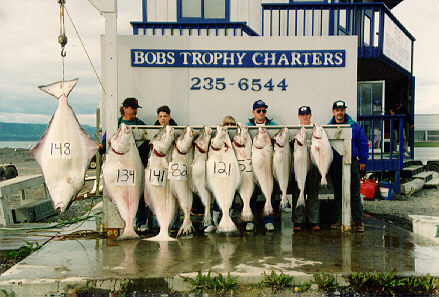 Homer is the "Halibut fishing Capital of the World". Consider the opportunity of fishing with us for "barndoor" halibut. Pacific Halibut, a member of the flounder family, averages in size from 20-40 pounds but we have sport-caught many halibut that weigh in the 100-300 pound range. We'd like to break the current state record of 450 Ibs.! Don't forget to enter the Homer Halibut Derby so if you catch "a big one" you'll win prizes which total up to big bucks. Plus, it adds to the excitement.



---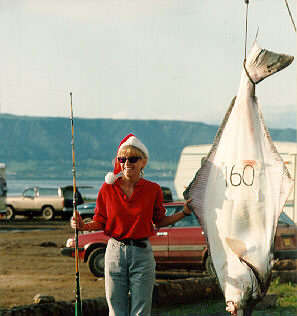 Halibut is a mild, great tasting fish and is suitable for a variety of delicious recipes. We have a cookbook created by locals which anglers may purchase along with their Derby tickets.Gear and bait are provided as well as any instruction or assistance you need, plus we fillet your fish for free. Our vessels have heated cabins and toilet facilities. It is best to wear warm clothing, rubber soled shoes and bring rain gear (just in case).

All our captains are friendly and experienced in fishing halibut and salmon in Alaskan waters.

---
FISHING -- SALMON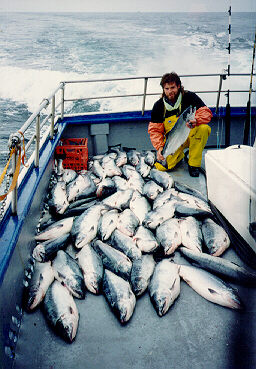 Ocean king salmon fishing is available year round in Kachemak Bay. Ocean kings range in size from 15-35 pounds and are "feeders" -- young and great tasting. "Spawner Kings" can be over 100 lbs. and are fished May thru July. All of our boats are equipped to fish for salmon when available.



---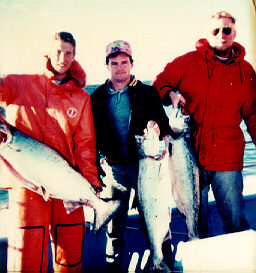 Silver salmon are hot in late July through early September. All gear and tackle are provided as well as instruction.

---
ACCOMMODATIONS

We have rooms with a beautiful view of the Homer harbor. They are above our office which makes it very convenient for our customers. The rooms sleep four in two bunkbeds. The cost is $75.00 per night for two and $25.00 for each additional person. We also offer free RV parking on our property (no hookups).
---
OUR FEES FOR 2000

Rates for our clients for the upcoming season are :
$140 per full day's charter on all boats during the off-peak season.
$160 per full day's charter on all boats during the peak season (June 1 - Aug 15).
$110 per full day for sightseers or children from 6-12 years old sharing a pole with a guardian (only on the 50 ft. "Nauti Lady).
---
TO CONTACT US

Call us at:
Nationwide: (800) 770-6400
In Homer: 235-6544

Write us at:
Bob's Trophy Charters
PO Box 1775
Homer, AK 99603

Or E-mail us at: -- Bob's Trophy Charters
---
Our mini-abacus at

tells us you are visitor #
---
halibut fishing charters Homer Alaska halibut fishing charters Homer Alaska halibut fishing charters Homer Alaska halibut fishing charters Homer Alaska halibut fishing charters Homer Alaska halibut fishing charters Homer Alaska Halibut Fishing Charters Homer Alaska Halibut Fishing Charters Homer Alaska King salmon fishing charters Homer Alaska King salmon fishing charters Homer Alaska King salmon fishing charters Homer Alaska King salmon fishing charters Homer Alaska King salmon fishing charters Homer Alaska King salmon fishing charters Homer Alaska King salmon fishing charters Homer Alaska King salmon fishing charters Homer Alaska